Thompson Roofing and Construction: Your Local Siding Installation Expert
We have over a decade of experience installing a range of siding materials on homes throughout the Huntsville, AL and Southern Tennessee area. If your siding is getting old, and you have to keep making repairs, it may be time to have your siding replaced. If you aren't sure whether you need new siding, then you can always contact us for a no-obligation inspection.
Maintenance Free & Energy Efficient Siding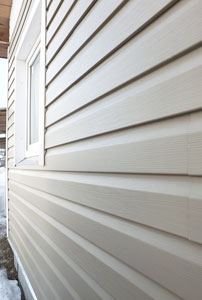 Thompson Roofing and Construction can increase your home's curb appeal and make it more energy efficient while reducing time spent on maintenance and associated costs. We can install beautiful siding that is durable and resistant to the elements. Advances in siding allow you to reduce your monthly energy costs by creating an insulating barrier between conditioned indoor air and outdoor air, resulting in less heat exchange and less energy needed to heat or cool your home.
Our siding solutions mean that you no longer have to scrape or paint wood shingles. All you ever need to do is clean our maintenance free siding with a garden hose. Each siding type comes in a wide range of colors and finishes allowing you to create the look you want for your home and match it with complementary colors of windows, trim, soffit, and the roof.
At Thompson Roofing and Construction, every member of our experienced team is fully insured and licensed. Our team of siding experts is highly qualified to install and replace your old siding with top-of-the-line materials from the best manufacturers. You can also count on us to finish your siding project on time, on budget and to your total satisfaction.
Request a FREE Quote for your Siding Project Today
We believe we offer the highest quality siding options for your home. If you are looking for a reliable contractor for siding in Huntsville, AL, then contact us today to get a free consultation on your siding project. You can speak with an expert right away when you call (256) 252-3188. Alternatively, you can fill out our convenient online contact form right here on our website. In addition to free estimates, we also offer affordable financing options.