Free Roof Inspections
As a Huntsville, AL roofing contractor that has been in business for a decade, we know just how much depends on the state of your roof. That's why we offer free inspections to educate you on problems that need to be fixed and help you find ways to maximize your roof's performance and service life.
Whether you need your roof inspected for insurance purposes or just to make sure everything's in order, count on Thompson Roofing and Construction to get the job done right.
Why You Should Get Your Roof Checked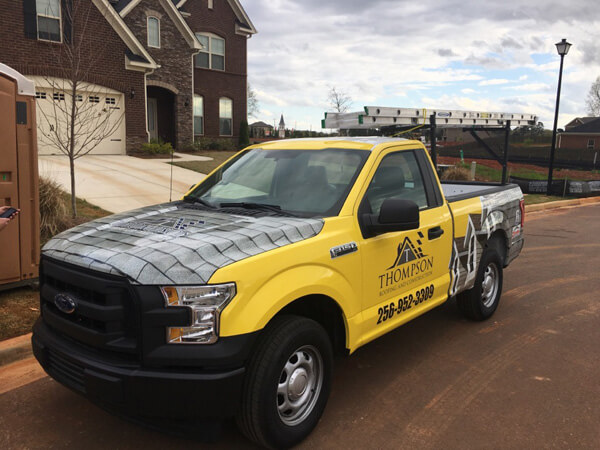 Inspections are designed to check for one or more of a host of roof system issues—things like weather damage, structural damage, improper sealing and water leaks, corrosion, worn-out or damaged shingles, and poor attic ventilation.
Think of them as a health check for your roof. Inspections allow for the early detection of preventable problems, which is why they are highly recommended once or twice a year and after extreme weather events. Other situations that call for a roof inspection include filing for new construction compliance and buying or listing a property.
Inspections help contractors build a comprehensive plan of action that can cover roof cleaning, maintenance, repairs, and—if called for—replacement. These action plans also include cost estimates.
Why Thompson Roofing and Construction
We have a proven reputation for delivering superior quality, genuine service, and great value. We are a fully licensed and insured local contractor; not a storm-chaser. We do not believe in high-pressure sales and will never push you to buy a product or service you don't need.
When you call us to request a free inspection, we'll set a schedule that's convenient for you. Our expert technicians will conduct a thorough inspection of the interior and exterior of your roof system, write down what needs to be documented, and give you an honest, easy-to-understand assessment.
Our goal is to make sure you get all the information you need to make an educated decision about your roof. And when we say we'll inspect your roof for free, we mean it!
Schedule a FREE Inspection Today
Don't wait for worse weather before you take action. Call us today at (256) 252-3188 to arrange a free, no-obligation roof inspection. Our lines are open from 7:00am – 5:00pm, Monday – Friday. You can also send us your request for a free roofing estimate through the online form on the right side of our website.